Welcome to The College Panda! If you're just starting test prep, then you're probably feeling a bit lost because the options are so overwhelming. It can be tough to find a good place to start.
In this post, I'll give you my perspective on most of the test prep options out there so that you can figure out the best starting point for you.
But first things first, let's talk about what a good SAT/ACT score is and by how much you can expect to improve through test prep.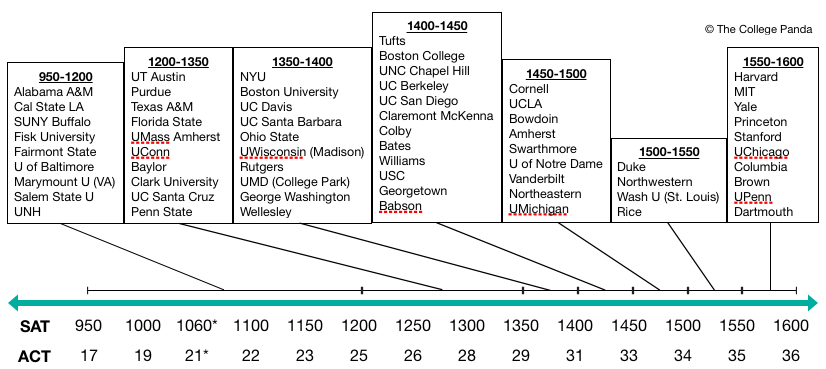 *The National Average for 2017
As you can see from the diagram above, a "good" SAT/ACT score is relative—it depends on what universities you plan on applying to. Those targeting the Ivy League will need to score around a 1550 (35) to be competitive, whereas students applying to UT Austin may only need a 1300 (28).
Note that the lists of colleges above are based roughly on average SAT score, which is not always a true reflection of how competitive a school is. A lower score does not guarantee rejection, nor does a higher score guarantee admission, and some schools may be test-optional.
Now if you're scoring lower than your target university's SAT score range, this is where test prep comes in.
It's important to set the right expectations upfront for how much test prep can actually help so that you understand what you're getting into. The following chart applies to native English speakers who are just starting test prep and have at least 3 months to study.
Improvement
General Requirements
50-100 SAT pts
1-2 ACT pts
Easily achievable by doing a lot of practice tests and reviewing your mistakes.
100-150 SAT pts
2-3 ACT pts
Achievable through dedicated study—a class, tutor, or general test prep book and practice tests.
150-200 SAT pts
3-4 ACT pts
Achievable through intense study. Individual study outside a class or tutoring session is necessary. Use section-specific test prep books rather than general test prep books.
200-250 SAT pts
4-5 ACT pts
Intense study and lots of practice tests. Must be thorough in reviewing all areas of weakness. Use section-specific test prep books rather than general test prep books.
250-300 SAT pts
5-6 ACT pts
Possible but improbable. A long time frame for test prep (at least a year) is likely required.
300+ SAT pts
6+ ACT pts
Possible but highly improbable. A long time frame for test prep (at least 1.5 years) is required.
Now let's talk about the test prep options that are out there.
1. Tutors/Classes
Having a 1-on-1 tutor or attending a local class can be the best option if the teacher is experienced and has a track record of improving students' scores. However, finding the right one can be a minefield as the great teachers are often already booked up. A lot of students turn to national brands like The Princeton Review or Kaplan, but the problem with these companies is that you don't know which teacher you're going to get. You might end up with a rockstar teacher or a newly recruited one with very little experience. The second problem is that their curriculums are not rigorous enough for ambitious students. Because they're big companies, they have to cater to the masses and dumb-down the material. They hardly go beyond the basics. The same goes for a lot of local tutoring chains. Do your research to avoid the ones that brand themselves as "high-end" solely to justify their overpriced rates. To summarize,
A local 1-on-1 tutor who has a great track record is by far the best option if you can afford it. Someone who knows what they're doing will be able to pinpoint your weaknesses and plan out what you need to do. Knowing what you need to do to improve is half the battle.
A class at a local tutoring center is the next best option if there is a small class size and the teacher has a good track record. Just don't expect the class to be the answer to all your test prep needs. No matter how great the teacher is, a class that only meets once or twice a week cannot possibly cover everything you'll need to know. Treat the class as a good introduction and then fill in the gaps through self-study.
Avoid big test prep companies (Princeton Review, Kaplan)
Avoid local tutoring centers that operate as big companies/chains (a.k.a test-prep factories).
Prefer in-person tutoring to online tutoring.
2. Practice Tests
Practice tests are the bread and butter of any test prep curriculum and by far the most important. Most tutors and classes will already integrate them into the schedule, but if you're taking the self-study route, make sure to go through as many as you can. Not only do they familiarize you with the exam content and timing but they also help you assess where you are and what you need to improve on.
I recommend going through past official exams before moving on to tests made by test prep companies. So far, The College Board, the maker of the SATs, has released 8 official exams on its website, and the ACT has released multiple exams as well, one in its annual student guide and 4 more in its official guide. You can find many more past exams just by doing some hunting online or if you subscribe to my newsletter, I'll send you a bunch of links to the ones I've found.
As a rule of thumb, take at least 8 practice tests and review them before you sit for the real exam. If you're working towards a high score, you may need to take as many as 12 to 15. Once you've exhausted all the official tests, you can move on to tests made by test prep companies like The Princeton Review and Barron's. Just keep in mind that these 3rd party tests may not always be reflective of the real exam or how you're scoring. In fact, some companies intentionally make their tests a bit harder to overprepare students. As long as you treat these tests as practice rather than accurate gauges of your score, you'll be able to reap the benefits without taking the results too personally.
3. Test Prep Books
Chances are you'll get at least 1 test prep book throughout the course of your test prep. This is where most parents and students get it wrong. They opt for general prep books that cover all sections of the test, thinking that it's the better deal. The problem with these all-purpose books is that they never go in-depth. Because there's so much ground to cover, they can't teach the exam in a comprehensive way. Don't be fooled by the big-looking books. They only give you a very basic run-down of the main topics and the strategies are dumbed down and oversimplified.
If you're an ambitious student, what you need are section-specific books: ones that cover only one section (e.g. math). These books have the room to cover all the concepts thoroughly, including the obscure ones. The second thing to look for in a test prep book is topic-specific practice drills. These drills are what help you address and improve a particular topic you might be weak in. Of course, this means that you'll have to buy multiple books but trust me, the investment is worth it.
If you're looking for specific recommendations, make sure to check out The College Panda's own line of books, which cater to this approach. You can find some other good options on Amazon as well.
4. Online Courses
Online courses are just like anything else. They can be effective if the course material is rigorous and the student remains engaged. However, I don't recommend them for two main reasons. The first is that they're online. You're one click away from a distracting youtube video or facebook chat. The second reason is that they're expensive. The average online course will charge you hundreds of dollars for the same material you'd find in a $30 book. Yes, you get lessons in video format but realize that watching videos is a very passive way to learn something—what you watch typically won't stick.
If you're thinking about an online course, I have a few pointers.
Always take advantage of the free trial first to see if it's right for you.
Choose a course that has a practice component to it. Videos by themselves are not enough.
Make sure you can stick with the course and finish it. If you're a constant procrastinator, you're better off with a tutor or in-person class that holds you accountable.
Try to find coupons or discount codes online. Many courses have promotions that you can often find just by searching through online forums and websites.
Avoid the official ACT course. It's overpriced garbage.
The College Board offers a free official SAT course through KhanAcademy. Because it's free, I do recommend checking it out.
Avoid online courses from big test prep companies (Kaplan, The Princeton Review).
Beware of score guarantees. There's always fine print and many of the conditions are so restrictive that you'll rarely qualify for a refund. By the way, most good tutors will not offer score guarantees because it's so student dependent. Realize that score guarantees are purely a marketing ploy.
That's about it for the test prep options. You'll probably end up using some combination of the options above, which is to be expected. There is no one magic pill that will guarantee improvement. Expect test prep to be a windy road and give yourself the freedom to experiment. What I've found is that the students who are relentless in finding the right resources for their progress are the ones who succeed.
Thanks for reading! If you're new to the blog, make sure to subscribe to the newsletter in the sidebar for links to practice tests and more test prep advice.